PHP Homework Help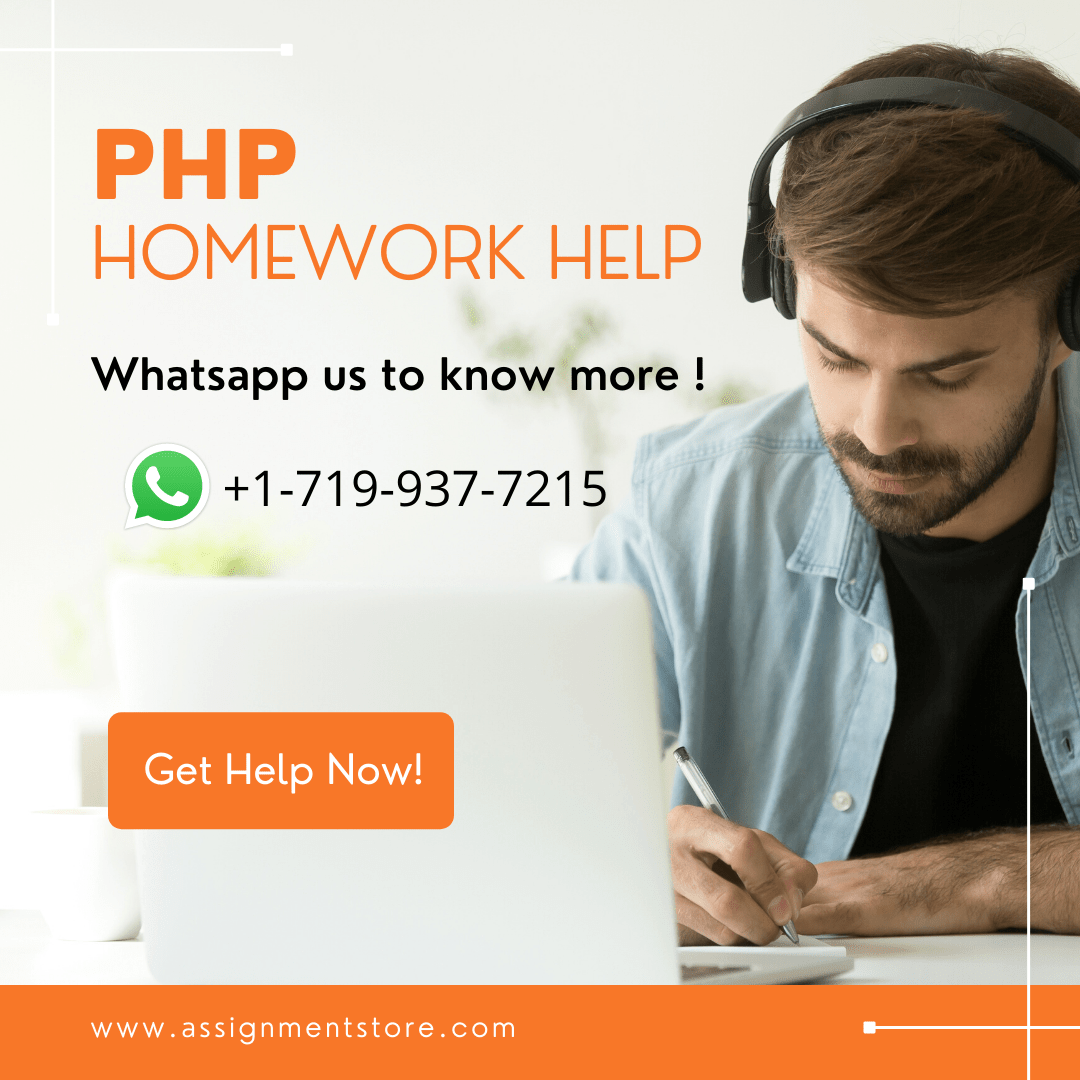 You can get PHP Homework Help from experts of Assignmentstore. We have prolific PHP coding experts to offer you homework and assignment help .
You can contact us immediately to know more about it. Discuss your PHP requirements to our advisors and we can get things started.
What is PHP?
Hypertext Preprocessor abbreviated as PHP is a programming language that is widely used to create dynamic and interactive web pages. It was one of the first server-side languages that were embedded in HTML, thereby increasing the functionality of websites without having to use data from other files.
PHP is essentially used to create web-based software applications.
If you are looking for assignment help in PHP , we have professionals to take care of it. Just connect with us now !
Benefits of learning PHP
PHP is a must-have skill for students and working professionals who want to become exceptional software engineers, especially those developing websites.
PHP is an HTML-enabled server-side programming language, which is used to manage dynamic content, databases, session monitoring, and to completely build e-commerce websites.
PHP is compatible with UNIX, Windows 98, Windows NT, and Macintosh. PHP is intended to work in conjunction with the Apache Web Server.
The execution is pretty fast and once it is launched, the MySQL server performs even the most sophisticated queries with massive result sets in record time. It is quicker to code and quicker to execute using PHP.
PHP supports a wide range of key protocols.
PHP's practical nature is enabled by five key traits, which are Effectiveness, Simplicity, Security, Adaptability and familiarity.
Applications of PHP
PHP is one of the most extensively used programming languages. PHP performs system functions, which means it can create, open, read, write, and shut files on a system.
PHP can handle forms, which means it can collect data from files, store data to a file, transmit data via email, and deliver information to the user.
PHP allows you to create, remove, and alter items within your database.
PHP can access cookies variables and also set cookies.
User restriction can be achieved by using PHP.
PHP can encrypt data.
PHP is utilized by 78.9 per cent of all websites having a known server-side programming language, according to current data. PHP is the most popular programming language. Career postings for entry-level PHP developer opportunities have surged by 834 per cent since January 2020, making it the industry's fastest-growing tech job. With such a high demand for PHP processors in the online market, there are currently three and a half million students learning PHP on the platform alone. There are hundreds of PHP courses available that cover the language from every imaginable aspect.
PHP programming can be a challenging task for pupils. It entails learning a variety of perplexing syntaxes and ideas, which is why students usually look for PHP coding assistance to comprehend the fundamentals of this language and accomplish their coding projects.

PHP Assignment Help
Tutors are available to provide PHP assignment help . All you need is to connect with us on Whatsapp .
Do you require immediate PHP coding assistance?
 We have top specialists ready for immediate PHP assignment help online or homework assistance at the most competitive pricing.
Our PHP assignment writers are all well versed in the PHP programming language.
Our specialists can help with PHP assignments involving the layout of a simple page form, color, graphics, working with snapshots, and hyperlinks.
With our experts on your side, you will be able to get excellent scores in your PHP assignments and programming homework.
Our certified and trained professionals have an in-depth understanding of PHP code and all of its complexities. As a result, they can build excellent PHP scripts for college students. They can explain the ideas and logic used in PHP applications in a clear and easy manner that even college students may grasp.
Students can easily contact our assignment experts who are available 24 hours a day, 7 days a week, and can connect with one of our computer programming experts right away, so you can simply clear your PHP assignments and programming homework problems.
Our services have gained the reputation of being completely plagiarism-free. Our concept is completely anti-plagiarism, and we strictly adhere to this guideline no matter what.
As a result, our PHP codes from our PHP assignment professionals are completely unique.
We understand the importance of submitting your assignments and homework on time, which is why our tutors go the 'additional mile' to deliver your PHP assignment on time.
Why Assignmentsore?
Qualified and competent professionals are available to assist you 24 hours a day, seven days a week to fix your issues.
Top-Rated International Education Tutoring Service
Affordably priced to be kind on your wallet
Assignmentstore is a highly rated service for students seeking assistance with their PHP assignments. Students at many levels, including high school, college, and university, receive assistance from our experts.  Practice and assignments are the most effective ways for us to learn anything. We have begun a PHP assignment assistance service for people who are familiar with PHP and wish to enhance their PHP coding abilities (basic to intermediate).
Apart from this you can also check out Pay someone to do my college homework 
Hire us to get your projects completed by a PHP expert developer or to learn from a PHP expert with team training and coaching experience.
Our PHP specialist will assist you with any form of programming assistance, coaching, or PHP project creation.